RFDA Releases:
Annie's Birthday (RFDA #18) - This is a found answering machine tape from Annie's birthday. Her boyfriend, kids, and friends all call with entertaining warm wishes.
The return of this thing called Fired Down! (RFDA #17)
I'm Scared (RFDA #16) - 3 and 1/2 Floppy Disk!!!
Switched from Motorolla to a Primeco Phone (RFDA #15) New All-Houston Screw CDR
"Live from the 713" Fired Down! LIVE (RFDA#14)
Codes for solo piano – David Kidney (RFDA#13)
Six short contrasting pieces for piano solo released on acute 3-inch CDR. We conquered France, Texas, Canada City, and Cincinnati. What's next? For program notes see below.
Fired Down! (RFDA#12)
Slowed down pop house/trance music: "cool slumber rather than spaced-out euphoria." Whatever, this is the best CD to drive real fast to. I-610, I-45, southwest freeway, 290.
The Singles II: for the Streets (RFDA#11)
Track titles: 1.Bass Fears 2.Houston Holidae 3.RuggDoggs 4.Like a pimp listening to his heart break 5.0ops Pops 6.Heavy weight frame and my six four stature 7.Hard Licks 8. Lovebird 9.represent Kingwood
Anthems…Screwed – DJ Damien(RFDA#10)
Anthems – DJ Damien(RFDA#9)
It's that boy from the southside putting it down for 5 dollar Tuesdays.
The Singles (RFDA#8)
Track titles: 1.In da strip club 2.We're in Houston 3.HipHouse of Pies (H-town mix) 4.bill me in 5.hammer and screw 6.RFDA live from Houston
Roll like a Troll (RFDA#7)
"South side still hold down, around here we like to Jam our music real slowed down" –
Lil' Flip, Freestyle King (crowned by DJ Screw R.I.P.)
All Houston (plus sippin' on syrup) jams seriously slowed for da purple trolls.
Listen to this as your roll through da space city. Down south, southside.
Double Double U, 2 CD (RFDA#4)
Mix CD "Mini" (RFDA#2)

Also OUT NOW!!!:
Crystal Stokowski (of Max Noi Mach, Monster Attacks King Noise Machine)/RatfaceDreamangel split tape
(10 minutes per side)

Upcoming Releases:
The Best of Extreme Animals: Fired Down! (Fall)
A Rappin' Tribute to Steve Reich – V/A (Winter)
Can I play with your Panty Line – DJ Damien (Fall)
Take it to the room (Fall)
We reinvented the remix (the future)
30 at 45, the album (Winter)
"I'm scared" – CDR version (Fall)

$4 per CD-R
Send orders to:
David
105 Manchester Pl.
Chapel Hill NC 27516
Questions? rrffddaa@yahoo.com
mp3 taste from the Singles II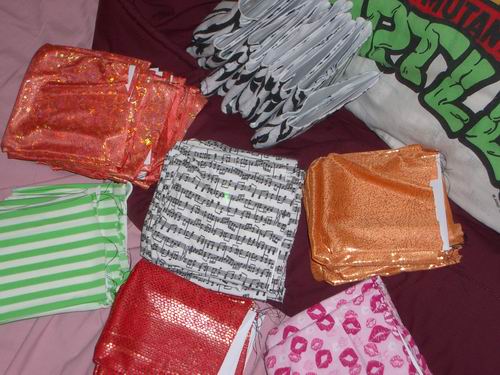 RECENT EVENTS

Special guest show on KTRU 91.7's Scordatura
April 10th from 1-3 PM 2004
I will be playing strictly club bangers from Lachenmann, Sciarrino, Murail, Reynolds, Ferneyhough, and mind your business.

David Kidney: What's between me and you?
Rice University's Shepherd School of Music Room 1131, April 22 2004 9:30 PM
The summer of 2000 was hot. I mean real hot. A young rapper from
Atlanta by the name of Ludacris (Chris Bridges) released his first national single
What's Your Fantasy? from the forth coming album Incognegro. Jeffery Atkins (AKA Ja Rule), another newcomer to the scene, was making waves with his ode to creeping, Between Me and You. In What's between me and you? David Kidney employs both of these songs as his source material. However instead of creating the ultimate song about freaking, the result of this combo is a complete nullification of all skankyness---both songs seem to sufficate each other into a peaceful trance-like composition for the 2004.

Ratface and David Kidney LIVE on KTRU's electronic music show
April 23 from 10 PM until the break of dawn
Ratface will be mixing in the "fired down!" style LIVE. This means all of your favorite high-energy and pop trance jams spun at a ridiculously slow pace. David Kidney will deliver an abridged radio-friendly encore performance of What's beween me and you?
Won't be in Houston on the 23rd? Don't worry. You can listen to the show LIVE on KTRU's Webstream. (http://bang.rice.edu/listen.shtml)

Teen Night at the Axiom
The Axiom 2524 McKinney Houston TX, April 29 2004 9:30PMish
Solo cello, electronic musical instruments, two turntables and a mixer, keyboards, harp and trombone duet.
Free pizza and soft drinks.

Future EVENTS:

RFDA Electronic Music Series — Spring 2004

Houston Texas
DJ Resurrection:
Cool Coffee house, TBA 2004
On January 28th 2004 I found a cluster of 23 recent European techno records at a used bookstore priced at 98 cents each. It was clear that this was part or the entirety of someone's collection because disparate old country and Christmas records surrounded the lot. The records connection to each other was further amplified by the identical bookstore's purchase date, which appeared on each price tag. When I played these records at home I was surprised to see how appropriately similar they were and how perfectly they mixed. In an attempt to resurrect the mystery DJ who previously owned these records, I will perform strictly mixing his records. Through his abandoned record collection the DJ will be brought back to life.

45s at 30:
Cool Coffee house, TBA 2004
I will mix 45 revolutions per minute 7-inch records at 30 revolutions per minute.
Why this will rock the troll and you should attend:
The music will sound extremely slow and low. Chilled out feelings may occur.
My record selection will be intentionally limited to only cheap 45s that one often finds at garage sales, thrift stores, and second hand stores. This financial constraint creates an interesting dynamic of unusual and classic 45s.
This will extend the tradition of Houston's DJ Screw and Chicago's LaDuece (16 Style).
New life and identities will be breathed into old songs through this expansion of time and pitch cause by slowing down record play. Woman's voices will sound like men, men will sound like trolls, and that's just the tip of the iceberg called 45s at 30.
What? What is a 45? What?
Music was first record on a cylinder by Thomas Edison in 1877. However in 1887 Emile Berliner, a German immigrant to the U.S., developed a way to record audio onto a flat disc which was easier to mass produce than Edison's cylinder. Most of these early one-sided records were about 10 inches in diameter and played at 78 revolutions per minute (or rpms). The 78 rpm speed could fit only 5 minutes per side and was replaced by Columbia with the 33 rpm speed on a 12-inch record in 1948. This new format could fit 25 minutes per side. RCA Victor then introduced the seven inch 45 which could hold as much audio as a 12 inch 78 but in a much more compact size. 45 and 33 then became the 2 standard speeds. These 45 rpm 7 inch records are what I will be mixing at the event, 45s at 30.
But what of the 30?
I will be mixing these records at 33 rpms. However I will be using special Stanton turntables with pitch modulation sliders designed for DJs to mix beats. These sliders can increase or decrease the speed of the motor by 10 per cent. I will be playing all of the records at —10% to get the greatest outcome, so slow. 90% of 33=29.7 (30)!!!!!
Secret Apartment Mini-Rave "Take me Higher, Into the light I reach, Candy rain, Heaven":
My apartment, TBA 2004
I will mix high-energy (pop trance, fired up! -whatever you want to call it) in my apartment on the low down. This will be like a secret rave as featured in the Newsweek or FOX news. Come chill out on my chilly bed or do the roger rabbit in my closet. All are welcome but please keep the peace and secrets so I am not homeless. B.Y.O.BobbyBrown. Call or email for more details. Stay Hydrated. Free!
Electronic performance with pre-concert lecture:
Rice University's Shepherd School of Music, TBA 2004
I will perform on electronic instruments that I built in 2003 and 2004. My instruments play with in gray area that lies between sustained pitch and rhythmic pulse. I will have the new Crystal Stokowski split release tapes for sale which feature the instruments that I will use in the performance. Pre-concert lecture will explain in detail how the instruments work (handouts included). Earplugs provided-feel free to supply your own eye protection. Free!
"When both eyes WINK then your eyes are closed": HIGHER STATE OF CONCIOUSNESS:
Cool Coffee Haus, TBA 2004
I will be spinning doubles of Josh Wink's classic acid house track Higher State of Concioussness for the entire night. Special video available at the show that features a minature version of the performance and free DJ lesson for the aspiring DJs.
Special thanks to the Goddess, paperrad.org, beige records, and everyone in the noise and break beat communities. R.I.P. "One Eye" Lopez
Email: rrffddaa@yahoo.com
RFDA Label:
Harder…
Slower…
Retardeder…
RatFace the DreamAngel
"I've been in the lab with a pen and a pad trying to get this damn label off" — Doctor Dre
Represent it all from the NC to the T to the X. Credits include but are not limited to: Mr. Browneye, D Flower, Rubber Hose, The Condumbs, The Lubricunts, Unleaded Fuel Only, Murder in Montford, Hobz, and the EA. RFDA label was started to represent "contemporary classical" (David Kidney s/t RFDA#1) to the fullest but got a little side tracked. The whole "fired down!" explosion hasn't exactly helped things. Come to the Space City for a secret raves under the ice skating rink in the world famous Galleria. Or chill in his castle in the sky and listen to Ian Van Dahl records.
DJ Damien
"I dropped out of U of H and went straight to the pros" — Paul Wall
DJ Damien has been spinning bangers and mash in some of the City of Syrups most notorious strip clubs. With his release Anthems (RFDA#9) we get a flavor of some of his favorite tracks that give props, dis, and sympathize with the stripper lifestylez. Keep an eye out for his two new releases to drop this spring and summer respectively, Can I Play With Your Panty Line? and See-Through Thong. Also warm down with the screwed version of Anthems when your rolling to the club on the 610 loop.
A special message from DJ Damien: Shout out to Harlem Knights Tuesday crew and Brickwall, Julliet, Hallen, the Russians, and Mai at the Gold Cup. St. James---You ain't all that! Quit firing all my friends and acquaintances. Keep the Historic Colorado clean---the last of a dying H-town breed. No luv to the Men's Club or Centerfolds. Babes---please step up your game. You are an embarrassment to what we do as entertainers. Legends, always and forever. Lets work together.
ACIDHEADZ
Maybe you've seen me on the Summer of HTML tour? I am Led by DJ Jackmaster Christmas behind the powerful TB-303 and the powerful harpsichordian and I likes to pick up where the EAs left off. Controversy surrounds the way I ride the fine line of rave positivity and frat-boy partydom. Too introspective? Surprise songs included Darude's Sandstorm, Vengaboys' We like to party, and the Rager's complete catalog. Special guest have featured Chicago's unknown unlyrical and Minniapolis's masked finest. Check list: Smiley-faced top hat, no shirt.
Extreme Animals
"Look, if you had one shot, one opportunity, to seize everything you ever wanted one moment, would you capture it or just let it slip?" — Eminem
"You know, I used to dream about this when I was a little boy, I never thought it would end up this way" — Justin Timberlake
This group was suppose to be called MTV. "The first group to bring emotion to Electronica" - Keyboard Magazine. Check out thier official website: www.paperrad.org/extreme.
the fire sword combine with the fire triangle and the stars, the 36 stars, from each sky make up the universe angel stars when their 2 characters (jacob and david) combine with the river of life and death, will always surround them. they first overcame death back in 1972. who is the angel?
the myth of the extreme animal's tale (featured on the right of the drawing): when the tale hit the two mascots their powers transferred to them the fire angels (6 characters) with hell. with the fire weapons combine, make the fire dragon.
Unofficial DJ Shoulders Webpage:
DJ Shoulders has received awards from ASCAP, BMI, and the national association for living sound. Best "band," hands down. Even Baltimore noise-rockers Nauti Al give approve. He literally tore it up on the Summer of HTML tour leaving flipped, broken turntables and smashed light bulbs in his wake. But it was more than worth it. Here are some pics of him working "it" with TA DJ Jackmaster Christmas.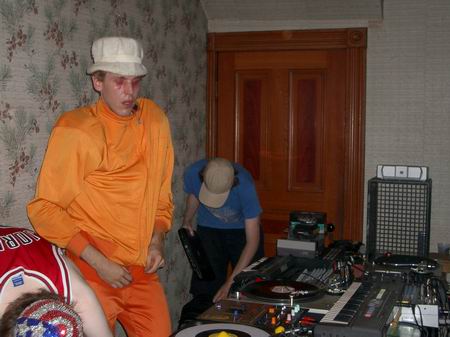 David Kidney:
Likes:
Money…on dv
People who do
Luna bar
Dislikes:
Haterz
www.Hotmail.com
Biography:
"I was born in 1977 - the year Charles Mingus died, the year Elvis Presley died, and the year the digital camera was born. I am a second-wave member of the Paperrad artist collective and my music is released on RFDA records."
About my upcoming 3 inch CDR:
"My new release on RFDA is of an older piece for solo piano called Codes performed here by Hyojin Ahn. Codes features six short pieces of contrasting characters. The first piece is a collage that presents many of the ideas that will be developed in the later five pieces. However in this brief initial presentation they are obscured or disguised. The second piece is one large gesture that expands and contracts in many parameters, such as dynamics, register, rhythm, and pitch collections. The third piece explores organic growth versus abrupt interruption using quickly repeating gestures. The fourth piece features a free lyric melody, which becomes engulfed by descending tremolos. The fifth piece combines ideas of serial composition with diatonic and pentatonic harmonies. The final movement is a passagalia."
Selected current projects:
"Badass" for California EAR Unit
"Oh No You Didn't" for Rice University's Shepherd School Symphony Orchestra
Solo piece for Jeremy Kurtz, Double Bass
Solo piece for Niuko Waden, Harp Punisher

Coming soon:
Fresh Clap Ensemble
Beefy T - Bobby Hill meets Louis Anderson meets Steve Bushemi meets Trent Reznor
H-town Links:
Houston Press Article on DJ Screw's untimely death