Table of Contents
Browse Items

Art Contact Music Press Projects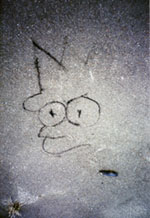 Fri, 22 Feb 2008

We will be doing an installation, performance (extreme animals and dj jazzy jess)
and giving a lecture at Reed Arts Week (RAW)
March 5-9th, 2008
Please come if you live near Portland, Oregon!

Thu, 24 Jan 2008
Jessica has some photos in a photography show at Community Outreach Gallery in London, Ontario, January 2008. It's their 1 year anniversary show. congratulations!!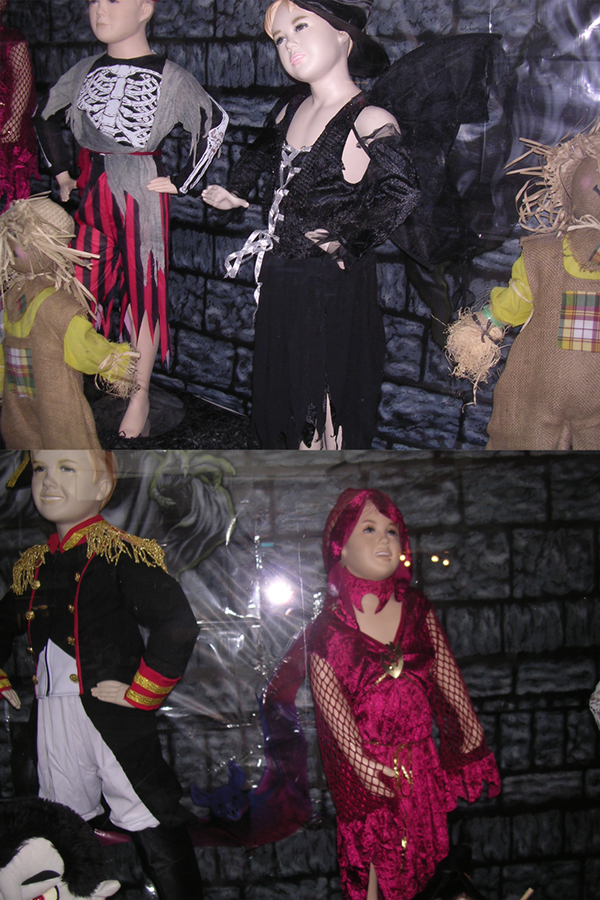 Sun, 25 Nov 2007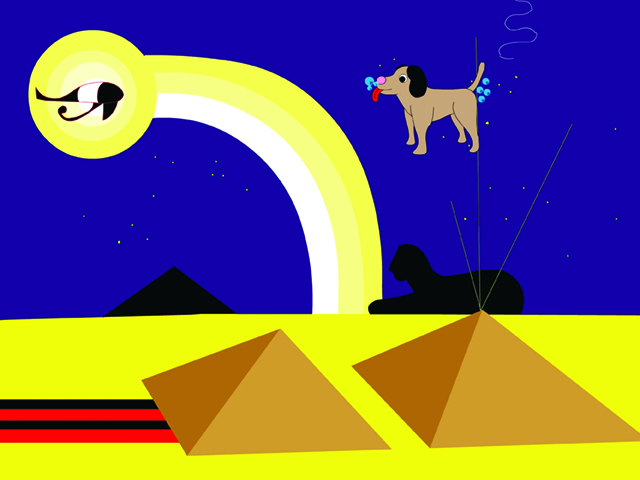 Our Bubble Puppy music video is in an exhibit called
"Playback" at the Musée d'Art moderne de la Ville de Paris/ARC,
along with the Gossip music video
made by related group Wyldfile.
We did a collaborative art show in Athens, Greece with Brian Chippendale
and Jungil Hong. Curated by Dan Nadel (of Picturebox Inc) and produced
by Andreas Melas.
Thank you Dan and Andreas! Here a some pictures of the installation: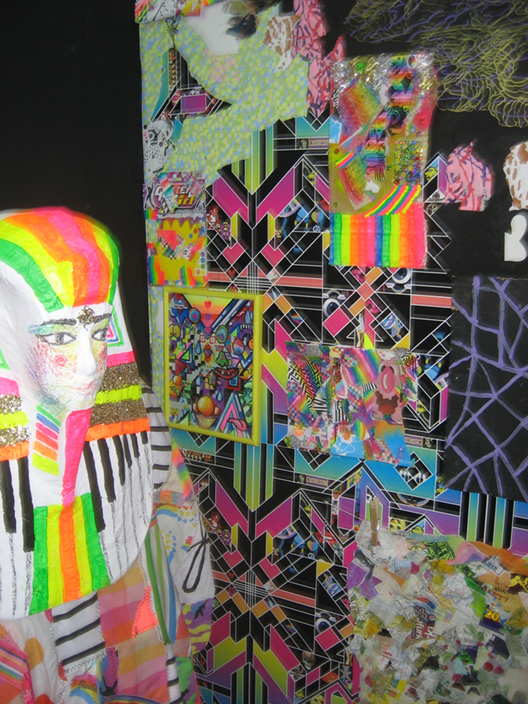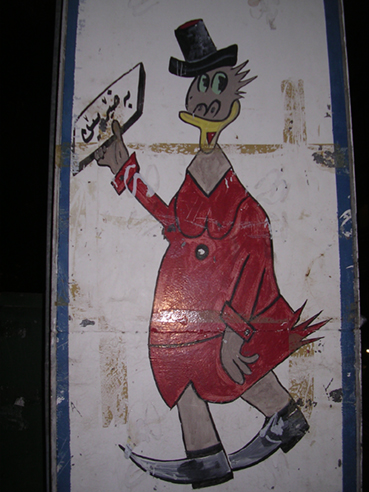 just some new paintings and drawings I (jacob) have been working on.
And a screen shot of a video (in progress).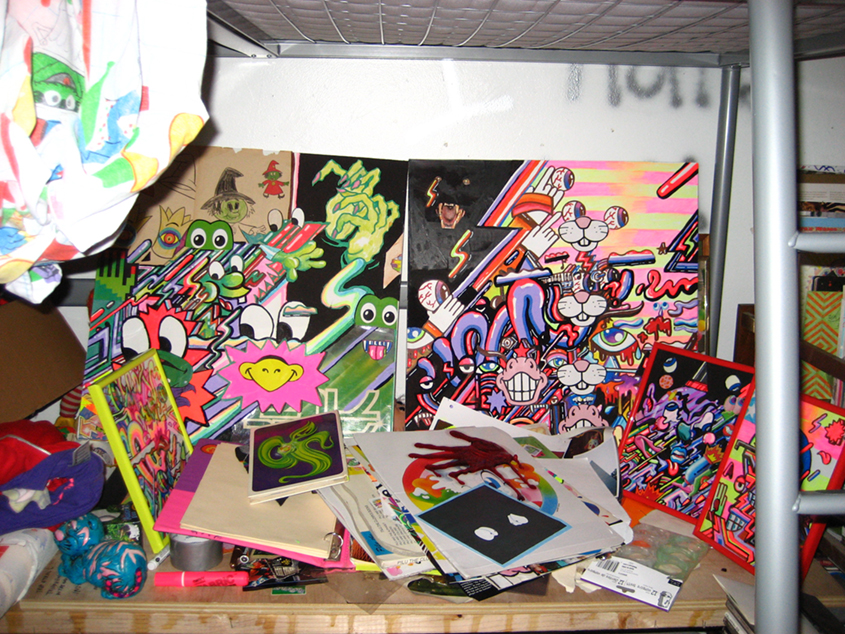 Pittsburgh Filmmakers Screening
Jacob just did a 60-minute screening in Pittsburgh as a part of the
Pittsburgh Three Rivers Film Festival. He showed 30-minutes of new
Paper Rad videos, as well as some favorite inspirational videos by
other artists such as Nanny Lynn and Gennady Tishchenko. Here are a
couple of shots from the new-ish Paper Rad videos:

Sat, 13 Oct 2007

Jessica Ciocci, Jacob Ciocci, Ben Jones [Paper Rad]
Paul B. Davis, Cory Arcangel, Joe Beuckman [Beige]
Curated by Heather Corcoran


< a href="http://www.eventnetwork.org.uk/programme/exhibitions/625">We have compiled a Gallery show with Beige, in London UK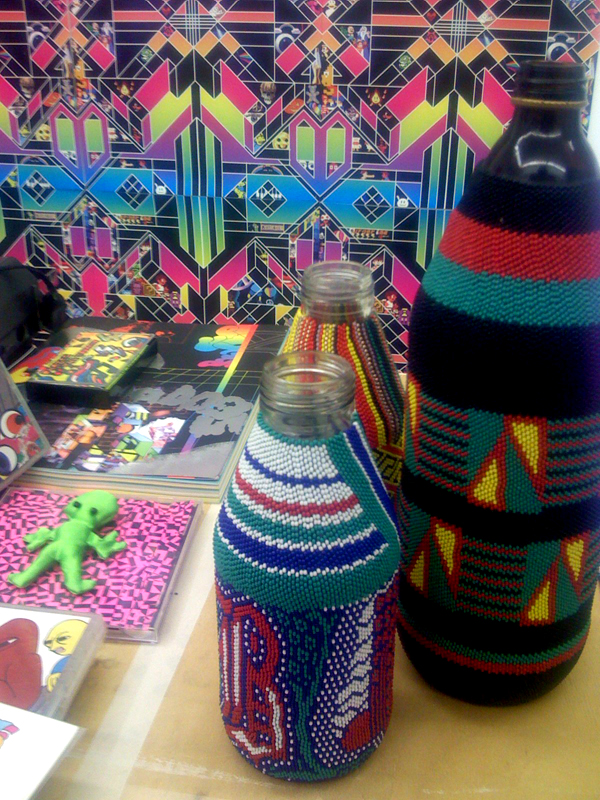 http://www.eventnetwork.org.uk/ info@eventnetwork.org.uk + 44 20 7613 0300
Fri, 29 Jun 2007
ben has a bunch of new large paintings on paper at 3 cool art shows right now: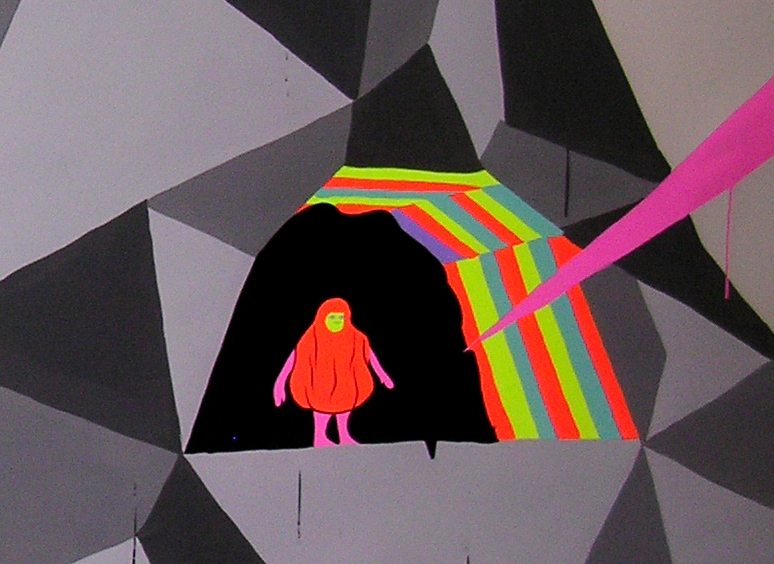 one huge one at Canada Gallery in chinatown NYC, show curated by Dan Nadel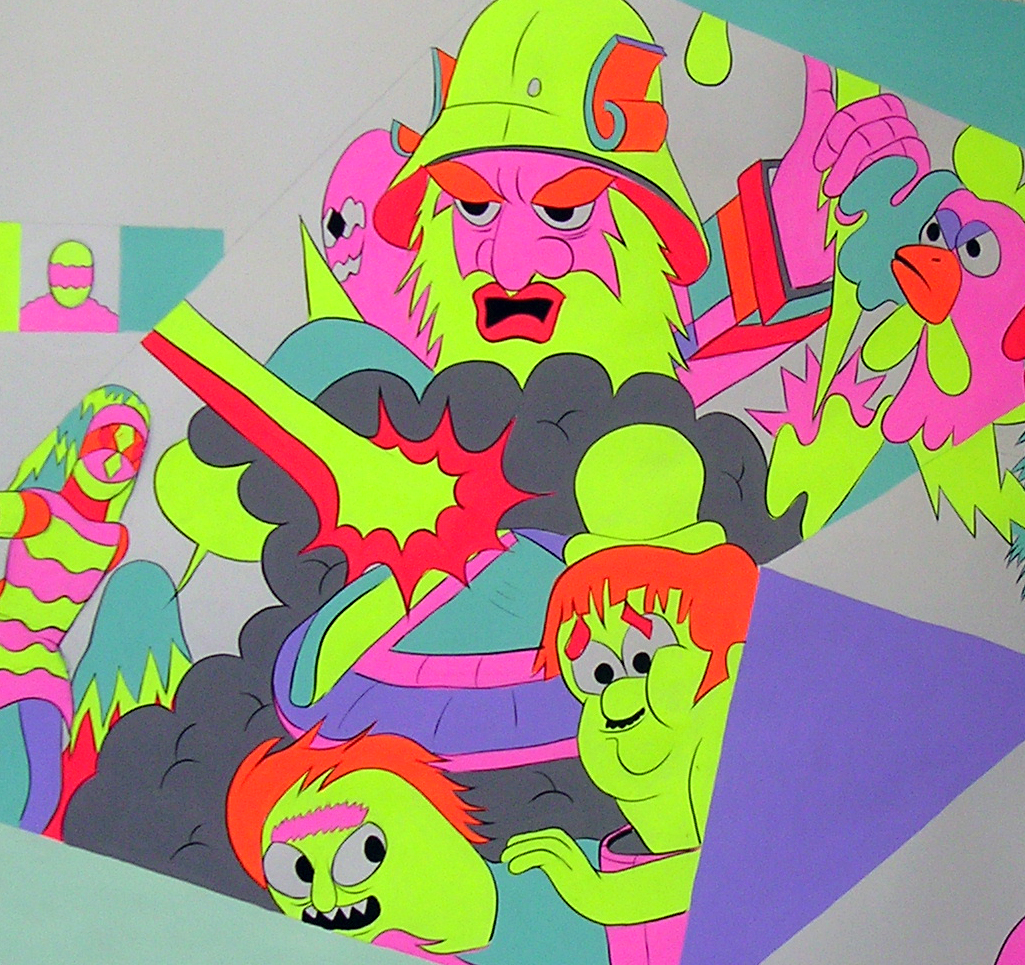 two large ones making a dyptych at Community Outreach
in real Canada, London, Ontario


and three other awesome ones in a group show in Berlin, at Peres Projects

here's ben with his new car: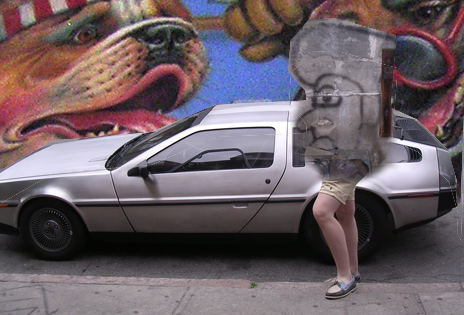 Tue, 01 May 2007
We put up some glowing art in the windows of a building in Chicago, Bridgeport, maybe it's still there? last weekend this weekend next? 4/20/2007...e*rock painted a nice mural. juiceboxx climbed the walls.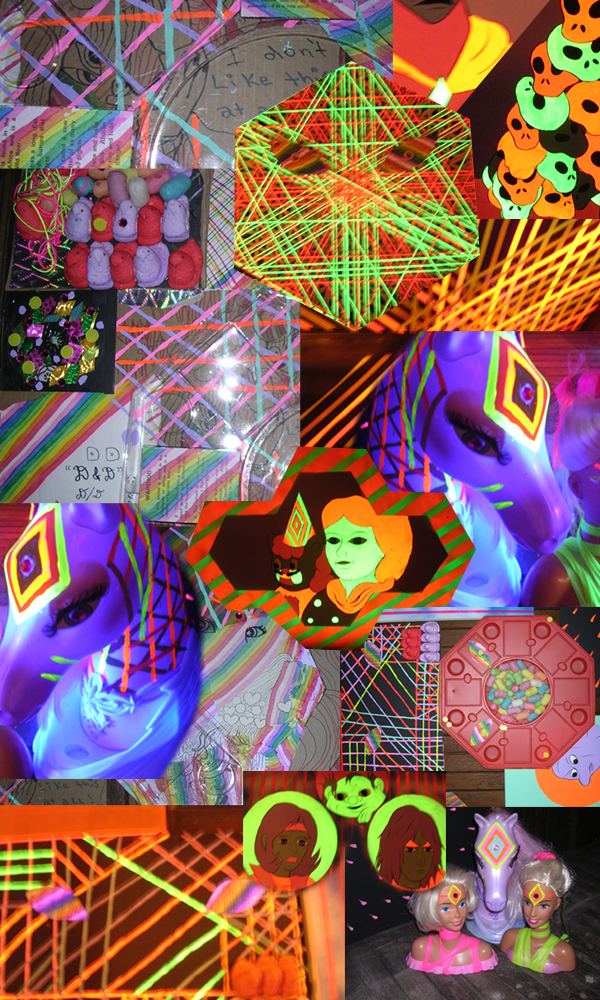 Mon, 30 Apr 2007
Foxy Productions
D.i.Why? Ben Jones, March 2005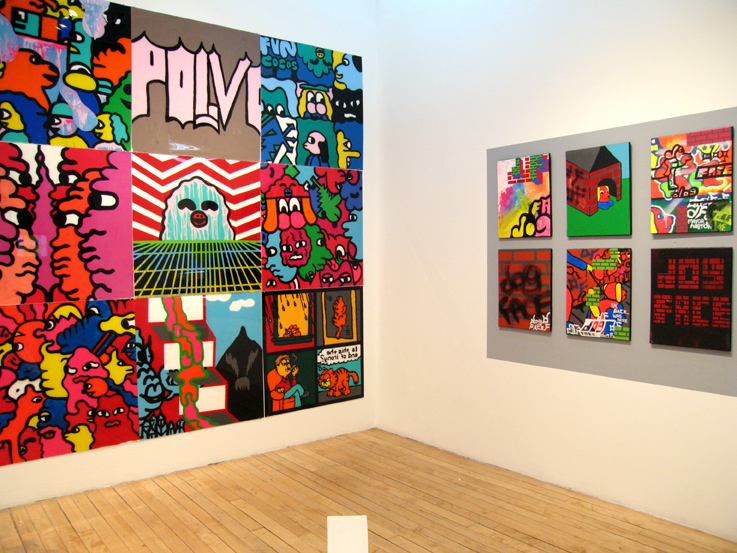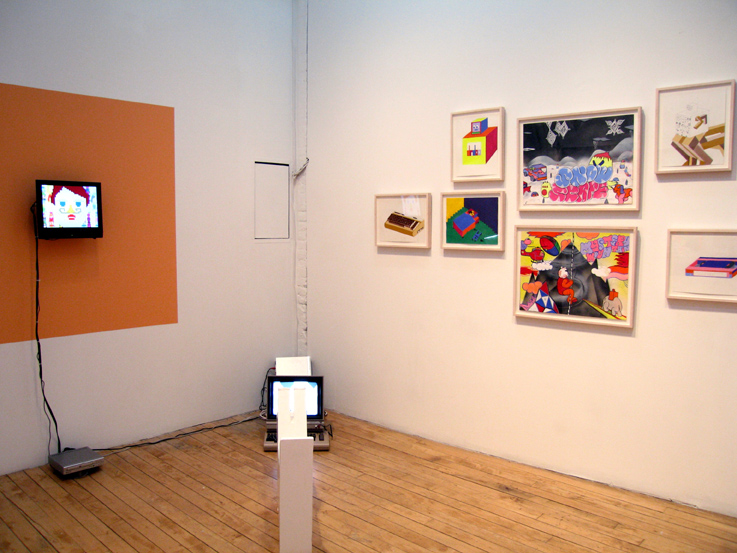 Wed, 07 Feb 2007

Jacob made another pixel robot dude at this show in Pittsburgh:

Space Gallery. Home/Away: Curated by Thad Kellstadt.
Thru Feb 28. Downtown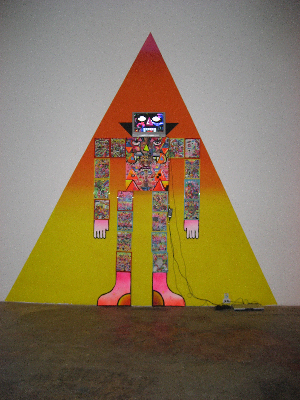 Lots of other great artists including:
Corey Antis, Matt Barton, Josh Bonnett, Jacob Ciocci,
Jen Cooney, Stephanie Davidson, Maya Hayuk, Jesse Hulcher,
Thad Kellstadt, Ladyboy, Max Lawrence, Jim Lingo, Chris Lisowski,
Dutch Masters, Jesse Jamaica McLean, Open Armz, Jae Ruberto,
Team Lump, Andrew Jeffery Wright

Very fun opening. We invented a new secret drink that has salad in the drink. giant eagle had their first jam in the tee pee.
Sun, 05 Nov 2006
Thu, 13 Jul 2006
FYI Jessica of Paper Rad has a cool solo show at Foxy Production called "P.E.A.C.E" right now, open until August 4th.
P.E.A.C.E.: what does it stand for??????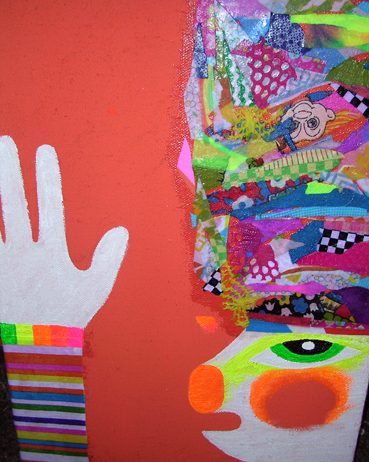 Mon, 29 May 2006
images from Extreme Animalz:the movie:part 1
at New Museum's Rhizome ArtBase 101 show
June 2005
Collaboration with Matt Barton. A bunch of moving spinning rotating animals plus animated gif collages on flatscreen monitors, which can be seen here

Fri, 28 Apr 2006
Jessica Ciocci, Evan Greenfield, Frankie Martin, Erika Somogyi Opening April 7th at 7pm no beginning and no ending, @ SPACE 1026

Tue, 07 Mar 2006
We will be at the E.A.I. booth at the new york armory art fair 2006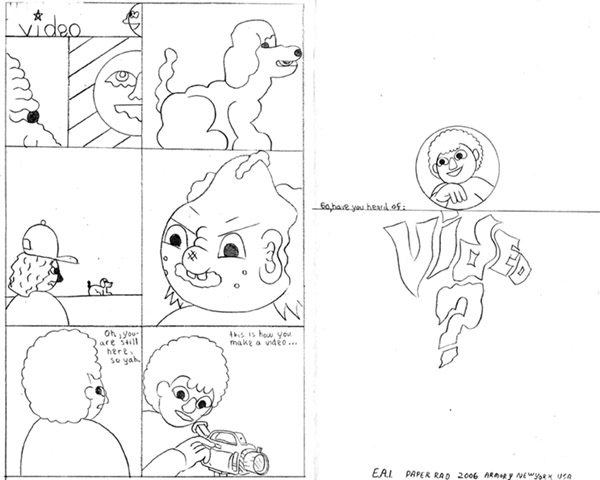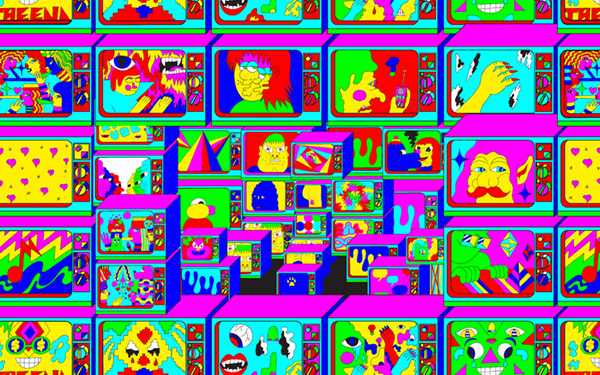 Fri, 27 Jan 2006
We will be in a show at Gallery Agniel with Brian Chippendale, Jungil Hong and Noah Lyon opening Feb. 10, 2006.

FYI Jacob of Paper Rad has a cool solo art show at Foxy Production right now in New York, at W.27th St., last block before the river, new block of art galleries.

We will be in a group show called "We Made It" at Second Gallery along with all our friends. It is in Boston. It opens Jan.28th 2006

Tue, 20 Dec 2005
Mon, 19 Dec 2005
We are currently in a group show in LA at Lizabeth Oliveria Gallery called The Seed Market, featuring works on paper that are seeds of ideas, etc.cool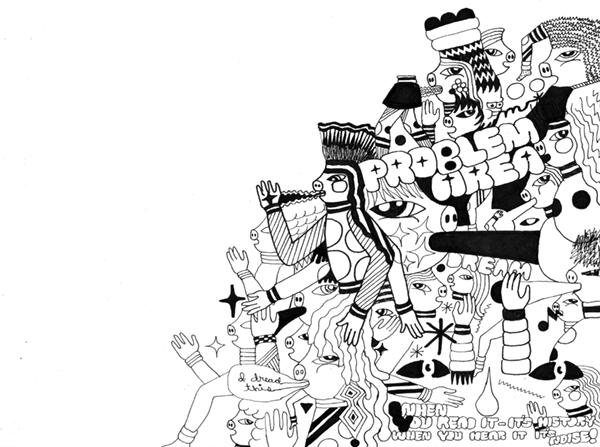 We got 3 or 4 drawings there.
Mon, 12 Dec 2005
wmvb fbmefstwe msftern
dan cashman
george william myers
paper rad
joshua vrysen
Dirt Palace, Providence, 2005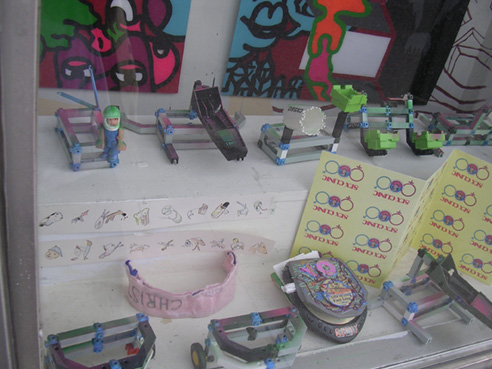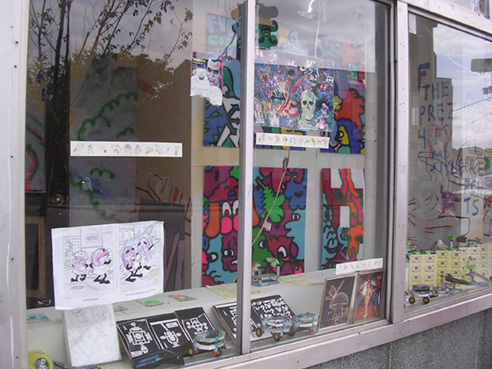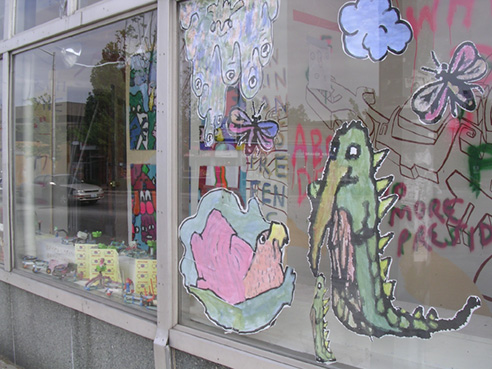 Reverse Engineers 2, Buffalo 2005

Miami 2005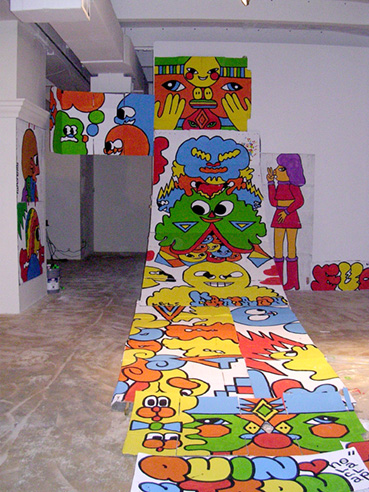 Thu, 03 Nov 2005
I think summer 2002 when we went on the summer of HTML tour with BEIGE PROGRAMMING ENSEMBLE we also did this small installation in an awesome place in kansas city that I think was called "your face". the space was cool, some nice motivated kids doin it. Anyways it was I think the 3rd or 4th thing we ever did in a gallery: a little room to take a nap or read our comics, watch cartoons. "No Assholes Allowed" like those posters you put on your door to keep the jerks out. Also I think we did a version of this in Pittsburgh at Future Tenant but I can't remember.

This was a group show to go along with ArtReview's 25 young emerging artists article. It was at Phillips de Pury in new york in early 2005. We had a room playing clips from our Free Music Videos event on one wall, and on the other wall was the premier of a video we made in high school called "commune". on the floor were some weird tv static kidz plus our p-unit mixtape on top of a quilt we found at a flea market.

Here are some pics of our solo show in NYC called "3-D" at Foxy Productions. Here is a link that has some text they wrote about it. This happened in april of 2004 I believe. Lots of little drawings, a "video comic" which was 6 channels of video meant to be read in sequence like panels of a comic. Plus it was the first appearance of the RGB "cubez". there were some big spray-painting stencils. We also had a treasure chest with lots of hand-made comics and video mixes and mixtape clubs.

This was one of the satellite group shows that coincided with the Beautiful Losers show in Cincinnati in Spring 2004. We went there for a week and had some important times hanging with Paper Rodeo friends, Space1026 friends, plus new friends. It's hard to tell from the pictures what we did but it was a big old cave called the "Mockbee" and we painted a big garf head. there were also pigs in jackets, a 3-d stuffed jacket character, a video mix, plus lots of other paintings/spray paintings I forget.

This was a group show in 2004 in Pittsburgh at the Three Rivers Art Gallery, curated by the awesome dude Alex Smith. well it was tons of young artists: localz plus some others, and we met a lot of cool people because of it. The thing we made was a big "Peace Puppy" you could crawl inside and chill out to the infinite traveler video and the dog talked, I think it said "I'm sorry but I have to eat you now. Crawl inside my mouth" but I can't remember.

This was a group show we did at Antioch College curated by Weird Shadow. We did this the same week as the Beaver College show: some spray paintings, a video mix, garf inside gumby inside garf inside infinity, a rave painting telling the true tale of one raver's final trip. That painting was a collaboration with Shana Moulton and was done originally for "microrave" which was curated by C.A.R.S. and occurred at Flywheel in easthampton, MA in late 2003.

The MarioMovie was a collaboration between Paper Rad and Cory of Beige. It is a hacked mario brothers nintendo cartridge, but instead of a game we turned it into a 15 minute narrative movie. we programmed the music, programmed a lot of the graphics (with cory's help), wrote the script, and designed the installation, which happened at Deitch Project's Grand St. Gallery in January of 2005. Here are some installation shots plus some screen shots. Soon cory and Paper Rad will post somethng with way more detailed info, but for now the source code I believe can be downloaded here.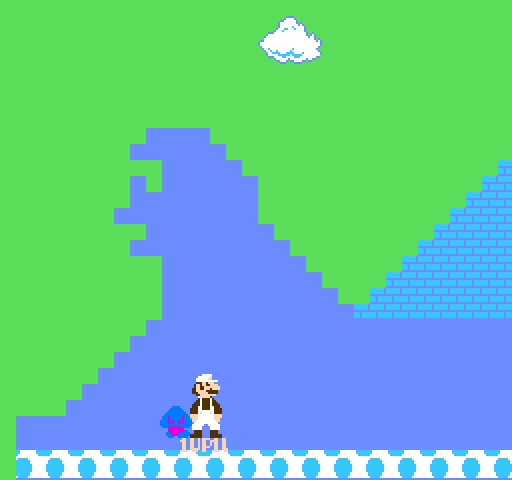 Paperrad in London at the Horse Hopsital
we made this for a show September 2004 at the Horse Hopsital in London, England. It's a video projection on a really old projector (thanks Paul) of an animation of a piece of pizza sitting on a table at a pizza parlor, but the pizza toppings are real paintings.

Thu, 15 Sep 2005
this was a storefront window display we made in the summer of 2003
in Pittsburgh for the 3 rivers arts festival. You couldn't go inside
but the outside looked like this: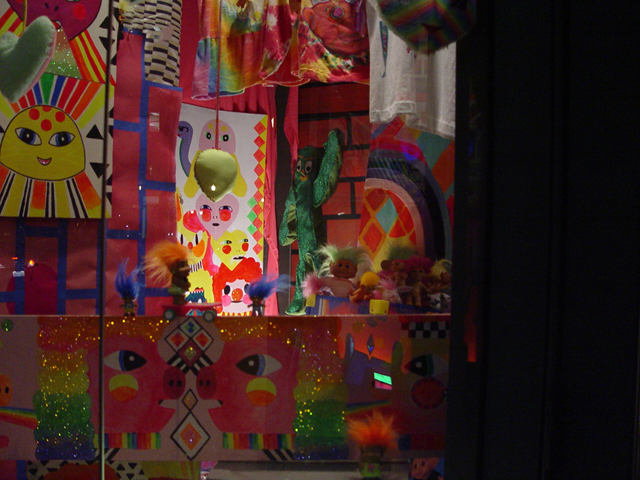 Tue, 13 Sep 2005
well it took 5 years but we finally stopped making
shitty zines,
actaully look for 5 new zines titles at spx this year
oh and this thing..
more on this later

Fri, 12 Aug 2005
our videos were screened in Vadadora, India, at a new media conference.