Table of Contents
Browse Items

Art Contact Music Press Projects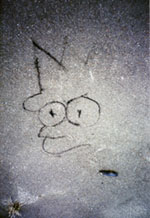 Sun, 01 Jun 2008
Problem Solvers on Youtube

Problem Solvers, our new animated cartoon for everybody, is on
the internet, "for everybody."
Here is Episode #1211: "Give Pizza A Chance"


click around for the rest of the mystery
Fri, 22 Feb 2008

We will be doing an installation, performance (extreme animals and dj jazzy jess)
and giving a lecture at Reed Arts Week (RAW)
March 5-9th, 2008
Please come if you live near Portland, Oregon!

South By South Whatever
We will be showing Paper Rad videos and Extreme Animals the band
will be performing
information:
Wed. March 12th 2008
Knitting Factory/ Todd P / Free Agency Showcase
@ Emos Jr
(603 Red River St)

Dan Deacon + Jimmy Joe Roche's Ultimate Reality
Wizardzz
Black Pus
Japanther
Meneguar
Free Blood
Extreme Animals
Paper Rad

Thu, 24 Jan 2008
Jessica has some photos in a photography show at Community Outreach Gallery in London, Ontario, January 2008. It's their 1 year anniversary show. congratulations!!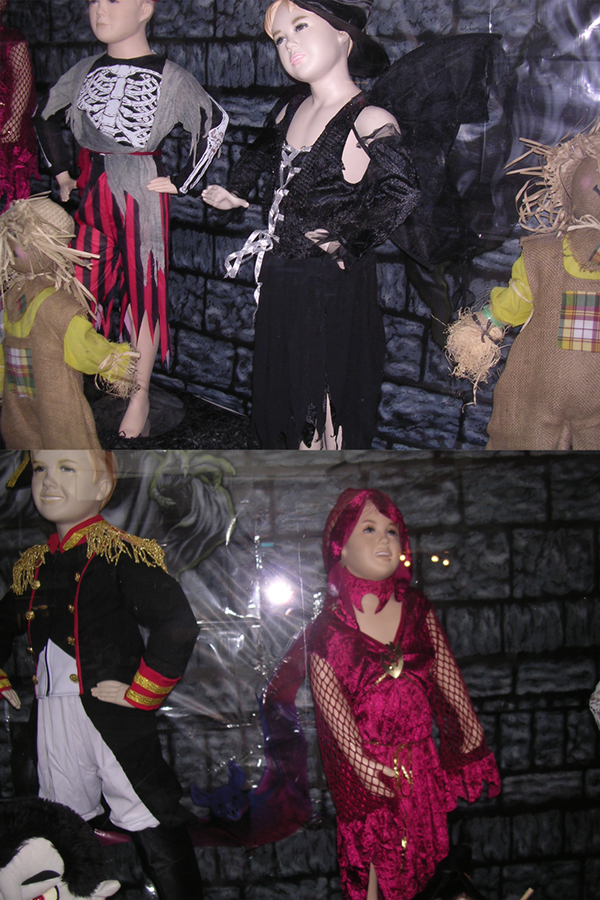 Sun, 25 Nov 2007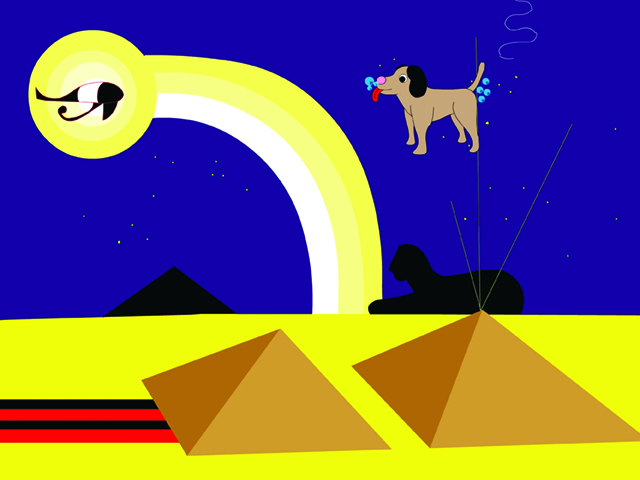 Our Bubble Puppy music video is in an exhibit called
"Playback" at the Musée d'Art moderne de la Ville de Paris/ARC,
along with the Gossip music video
made by related group Wyldfile.
We did a collaborative art show in Athens, Greece with Brian Chippendale
and Jungil Hong. Curated by Dan Nadel (of Picturebox Inc) and produced
by Andreas Melas.
Thank you Dan and Andreas! Here a some pictures of the installation: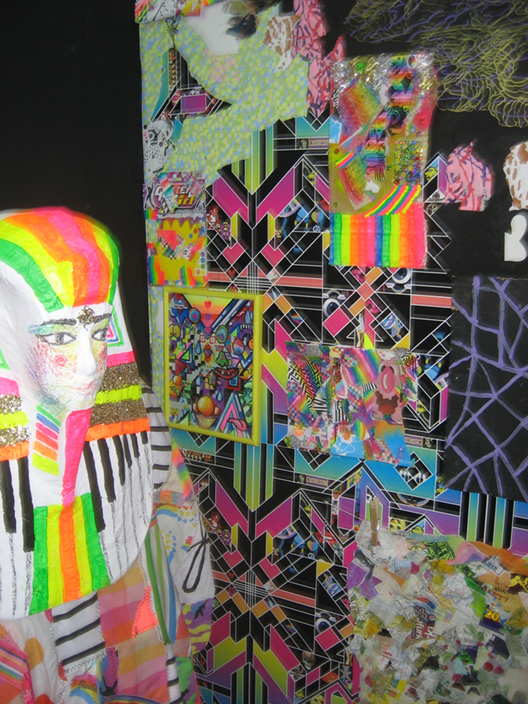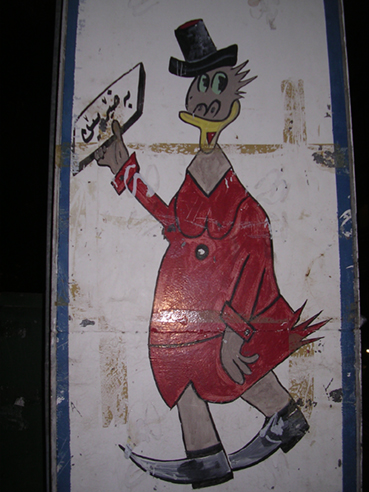 just some new paintings and drawings I (jacob) have been working on.
And a screen shot of a video (in progress).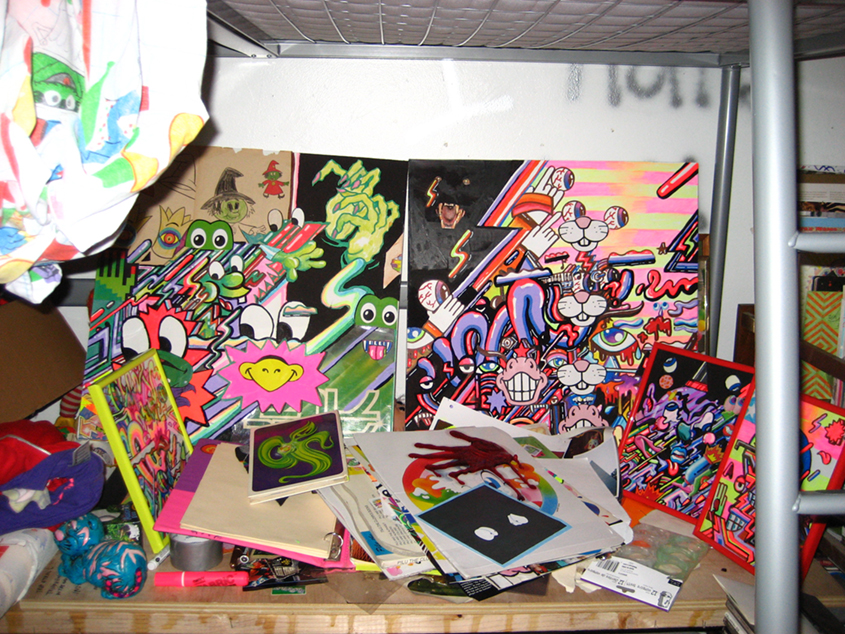 Pittsburgh Filmmakers Screening
Jacob just did a 60-minute screening in Pittsburgh as a part of the
Pittsburgh Three Rivers Film Festival. He showed 30-minutes of new
Paper Rad videos, as well as some favorite inspirational videos by
other artists such as Nanny Lynn and Gennady Tishchenko. Here are a
couple of shots from the new-ish Paper Rad videos:

Sat, 13 Oct 2007

Jessica Ciocci, Jacob Ciocci, Ben Jones [Paper Rad]
Paul B. Davis, Cory Arcangel, Joe Beuckman [Beige]
Curated by Heather Corcoran


< a href="http://www.eventnetwork.org.uk/programme/exhibitions/625">We have compiled a Gallery show with Beige, in London UK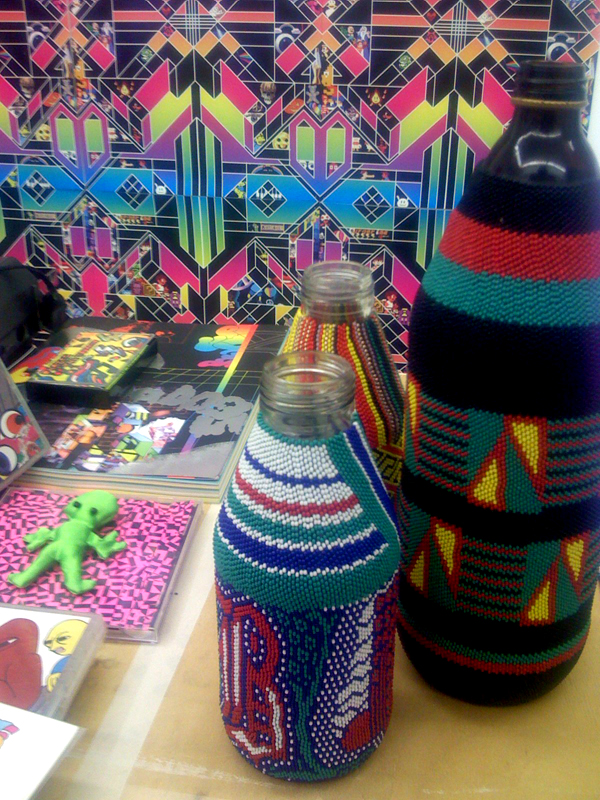 http://www.eventnetwork.org.uk/ info@eventnetwork.org.uk + 44 20 7613 0300
Mon, 16 Jul 2007

Paper Rad will be performing with Cory Arcangel at the MOMA in NYC
very soon: July 24th. PLEASE COME or tell all trolls!!!!
Extreme Animals, Dr. Doo, DJ JAZZY JEZXX plus Cory and SLOW JAMZ BAND!!!!
"everything is real"!!!!!!
mo info at: http://www.myspace.com/poprallypaperrad

Fri, 29 Jun 2007
THE FAR OUT BITCHES OF EAST TROLL "shitty city" tour

this is what we'll be doing

"the chill-burnt mo'muddyblues houseband birthday band!!!!!!"
and the "far out forest troll bitches of east cirque de soul lame sisters and their minstrel cramp show"
and DJ Muffin Top and the scrub bubble crew
featuring DJ Hair It Is and the short-rave crew
into your world.....

catch some new crumple dye dancing

catch the launch of clothing/tape line "dem moody blues"

glow in the dark custom label 40, dance

tape players with tiny record players and style poses inside

"peace and love and understanding (today is the day)"

june 30 full moon dance trance all nite providence launch into the nite
july 1 in the woods
july 2 brattleboro vermont
july 3 new brunswick new jersey or western massachussetts you tell me
july 4 providence all day open mic comedy trash fire courtyard jamboree

"this is only the beginning"
"this is only the beginning"
"there is something in the air tonight"
someone escaped from the human slinky full moon mental hospital
ben has a bunch of new large paintings on paper at 3 cool art shows right now: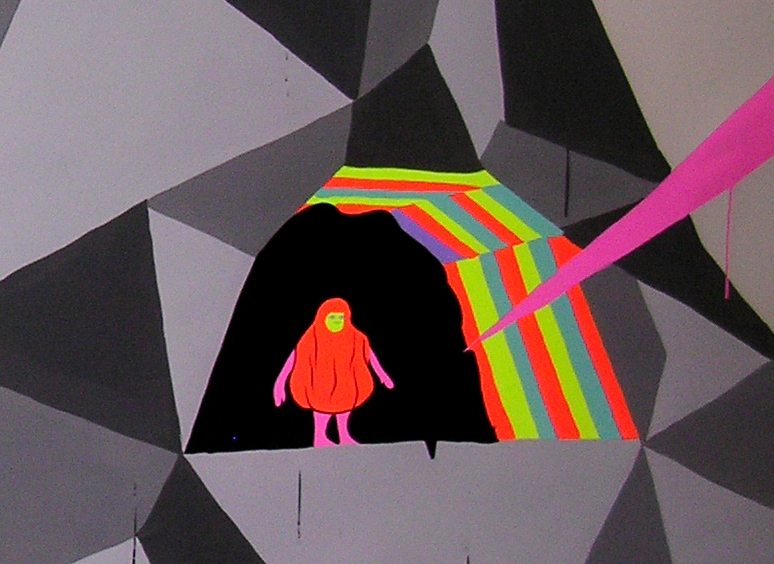 one huge one at Canada Gallery in chinatown NYC, show curated by Dan Nadel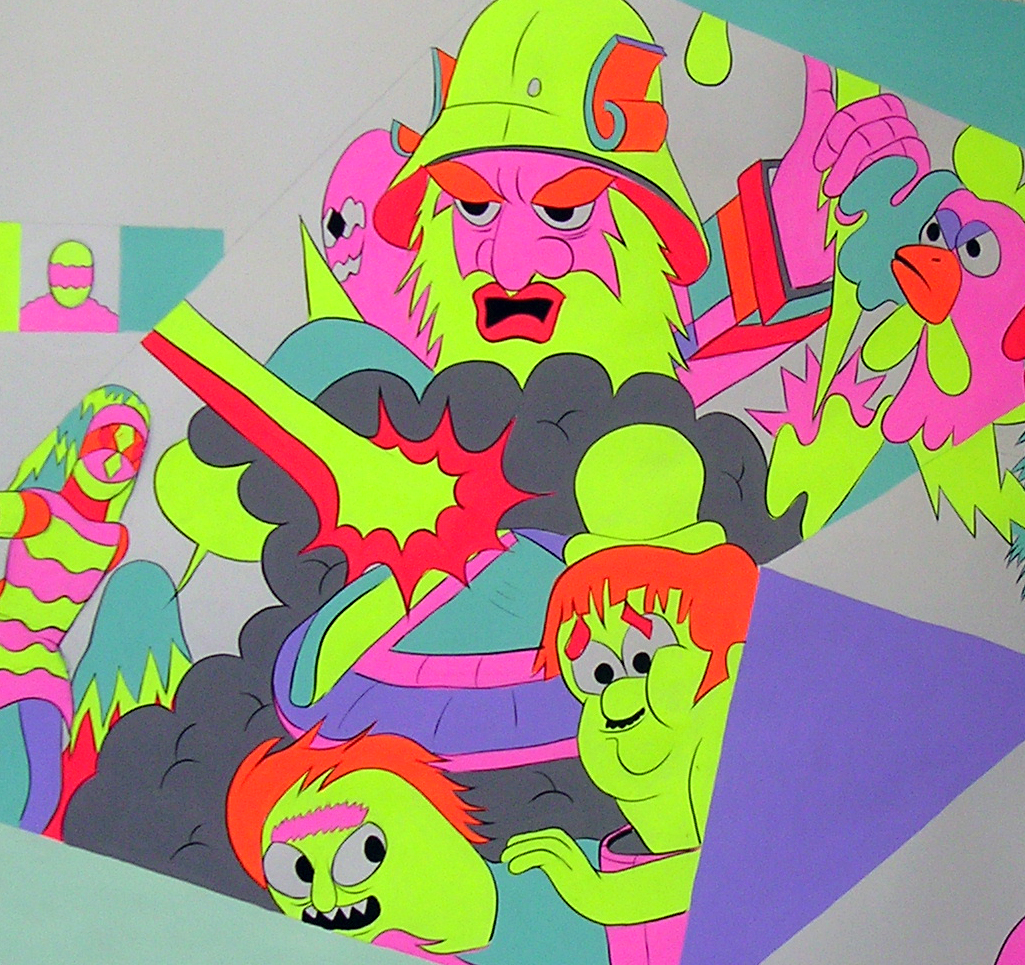 two large ones making a dyptych at Community Outreach
in real Canada, London, Ontario


and three other awesome ones in a group show in Berlin, at Peres Projects

here's ben with his new car: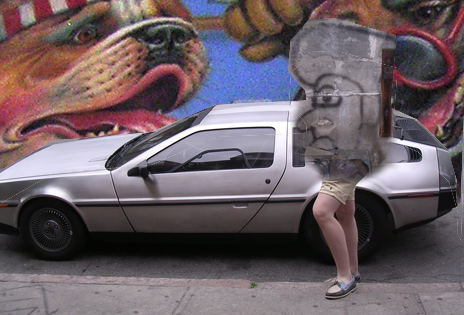 Wed, 20 Jun 2007
Tue, 19 Jun 2007

do you have a contest???!!!

coming soon.... new contest: do you have a contest?
watermelon lower back springbreak tattoes, on men with a bite taken out COMING SOON: poetry submissions currently being taken EMAIL ME you know where to find me .... to be found in the "poetry corner" of my new novel, next weekend, nyc
LOOK OUT for:
tours across america tours across the woods tours across extreme europe w/ expresso on the side
something baltimore, something shit, something new york, some shit
NEW DJ BATTLE COMING OUT THIS SUMMER: DJ HAIR IT IS VS. DJ BARE WITH ME vs. T BUBBLES and the Muffin Top Crew
NEW NICOTINE PATCH: tux dog!
NEW CAR SPOTTED IN RHODE ISLAND:
dalorian, grey, picture this:

LOOK FOR THE NEW CLOTHING LINE:
"DEM MOODY BLUES"
in stores now
and watch out for rival company



c-ya in ikea

p.s. happy b-day art bell
Wed, 13 Jun 2007
Tue, 01 May 2007
We put up some glowing art in the windows of a building in Chicago, Bridgeport, maybe it's still there? last weekend this weekend next? 4/20/2007...e*rock painted a nice mural. juiceboxx climbed the walls.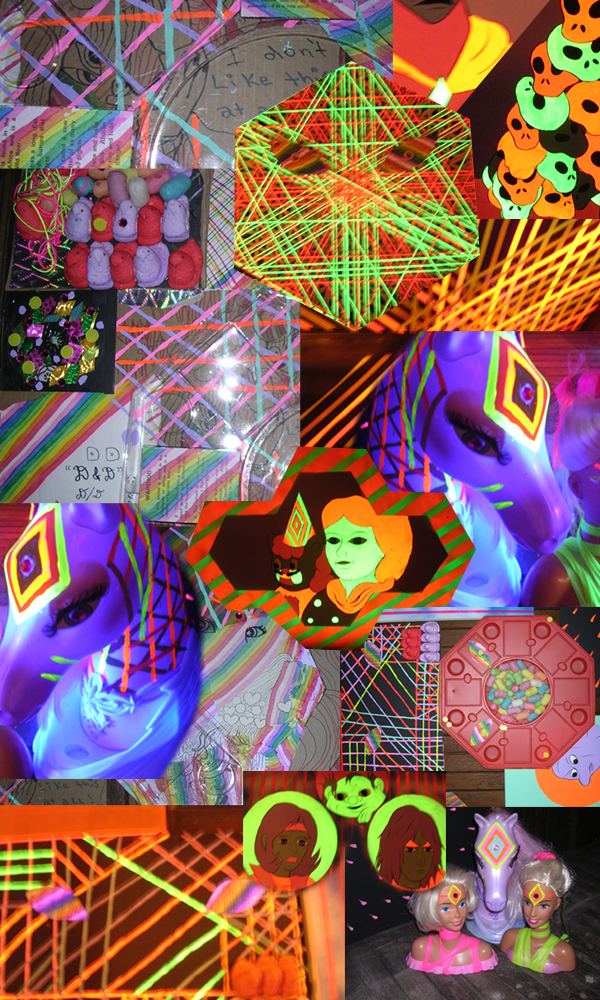 Mon, 30 Apr 2007
Our spiritual and artistic mentor, ANDREW JEFFERY WRIGHT is having a show in CANADA with our friend's canadian gallery.

Foxy Productions
D.i.Why? Ben Jones, March 2005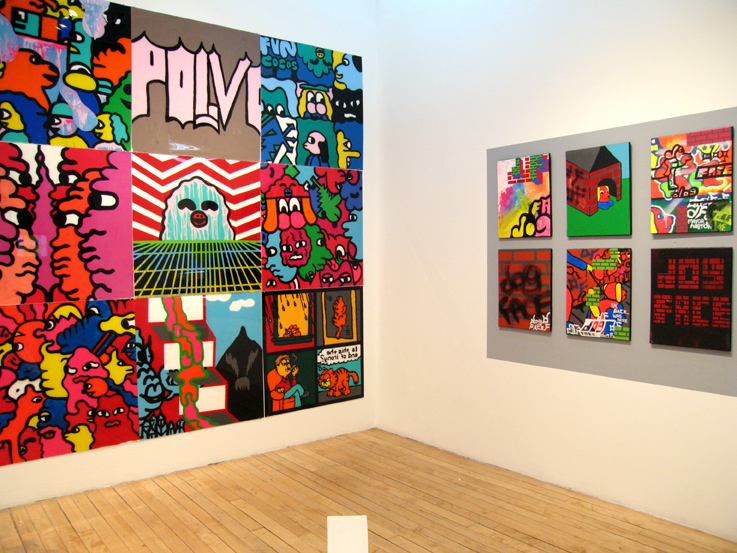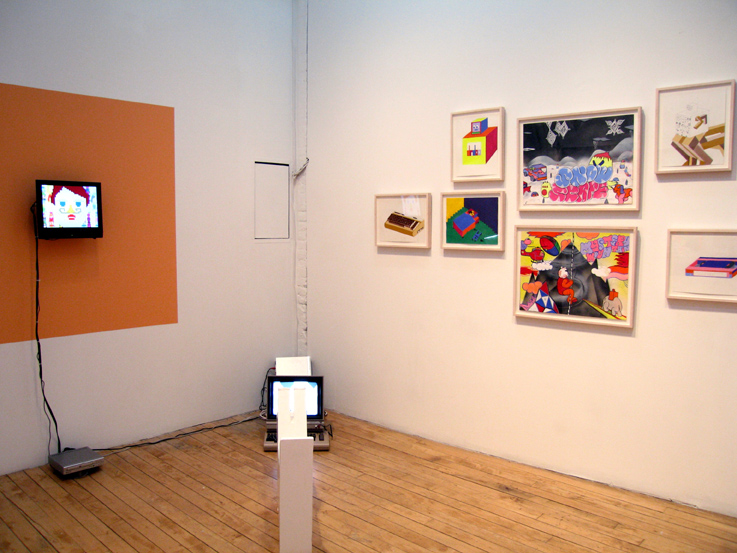 Tue, 17 Apr 2007

Jacob put together a video screening called "nothin special"
that is a part of the select media festival in chicago.
Please go, here is the info:
http://www.lumpen.com/VERSION7/a20.html
FRIDAY APRIL 20 7pm
@ Co-Prosperity Sphere ¥ 32nd Place & Morgan
$10 Donation after 8 pm


One hour of videos from the sad lands of post-internet contemporary USA.
Some of these artists I have met, others are YouTube apparitions, and others
are complete mysteries, discovered, re-discovered, and lost again inside the
internetÕs caverns. Original or stolen footage, homemade or mass-produced,
monumental or completely boring, there is no difference. A magical moment
becomes meaningless, then rediscovered as a powerful ghost, then buried again--
all in the blink of an eye. Banal vs. Extraordinary, Derivative vs Original,
Insane vs Normal, Real vs Fake, these distinctions donÕt exist because we walk
with all these spirits simultaneously.

Including:
John Michael Boling and Javier Morales (New York), Jesse Hulcher (Pittsburgh),
John Kilduff (Youtube/California), Jesse Mclean (Pittsburgh), Shana Moulton (California),
Nanny Lynn (Michigan), Happeh (Youtube/California), Guthrie Lonergan (California),
Kathleen Daniel aka Silicious (Youtube/Germany)

Wed, 07 Feb 2007

Jacob made another pixel robot dude at this show in Pittsburgh:

Space Gallery. Home/Away: Curated by Thad Kellstadt.
Thru Feb 28. Downtown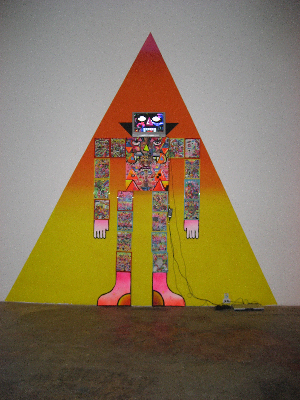 Lots of other great artists including:
Corey Antis, Matt Barton, Josh Bonnett, Jacob Ciocci,
Jen Cooney, Stephanie Davidson, Maya Hayuk, Jesse Hulcher,
Thad Kellstadt, Ladyboy, Max Lawrence, Jim Lingo, Chris Lisowski,
Dutch Masters, Jesse Jamaica McLean, Open Armz, Jae Ruberto,
Team Lump, Andrew Jeffery Wright

Very fun opening. We invented a new secret drink that has salad in the drink. giant eagle had their first jam in the tee pee.
Fri, 26 Jan 2007
Beau and Peter. Beau heads the canadian faction of Paper Rad,
known as Pita Radish aka PAZ aka Natural Reflex. Peter is a
cab driver and former roadie for the all male 90's strip outfit
"Grungey Squad" aka "Canadian Logs".
This event is highly recommended, if not vital.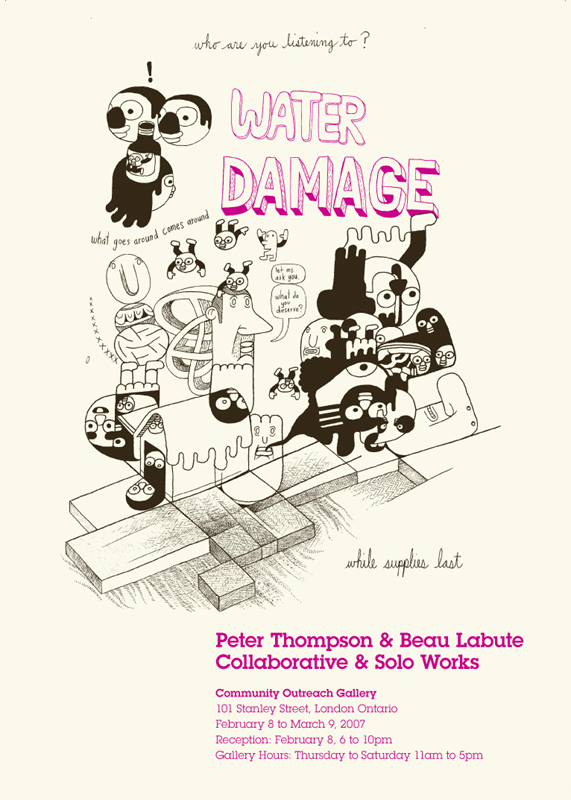 Fri, 05 Jan 2007
Paper Rad videos and Jazzy JC 2-d art show up in Baltimore this Saturday,
January 6 2007. Dance Party featuring incarnations of DJ JC, Rubbed Raw, Lexie Mountain Boys...more i'm sure.
GLOW WORMS GLOW WORMS opens at Current Gallery January 6th!!!!!!
Opening reception: Saturday, January 6th, 2007 at 8pm
with Lexie Mountain Boys, Fancy Feast, Rubbed Raw, DJ Jazzy Jess,
videos & then dance party!
Current Gallery is located at
30 South Calvert Street, Baltimore, MD 21202.
Glow Worms is open Tuesday 3-7, Thursday-Sunday 11-7, through
January 26th. Curated by Sophia Dixon.
"Glow Worms is a gathering of artwork and performance that
generates light and warmth in the dark days of winter. The show aims
to ward off seasonal depression with work that glows in the dark,
lights up, and is bright, hot, intimate, erotic, enclosed, and secret.
If Glow Worms were an animal, it would be phosphorescent rainbow
jellyfish in the darkest part of the ocean."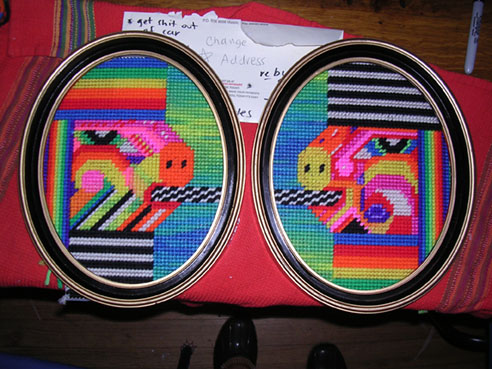 Tue, 26 Dec 2006
working on the new x-mas video promised

comings soon so to speak, here is a sneak:

Fri, 22 Dec 2006
Dr. Ninja, aka Paper Rod, aka Retard Riot aka, wait thats it, it feels like he has 20 names, but i
guess thats it, anyway, Noah, has started a really really good web page of reviews. They are
really funny and insightful. Here he is talking about our new DVD:


Paper Rad - "Trash Talking" dvd
Music, Movies, Art - admin on December 21, 2006 at 11:37 pm

Have you ever heard trash talk? I mean...have you ever really listened to your garbage? Look at all
your stuff. Trash. Why do we have it and why is it here? The answer may be found in your U2
iPod, in the Russian Nintendo video bootleg file. Sorry, let me start again. Do you want a
snack...some chips? Some wedges? We have along way to go in this review...DVDly speaking. Sorry,
we're out of sauce enablers. Anyways, where was I? Oh yes...trash talking. Trash poses the
question: "What is the new shape in entertainment? What is the new entertainment shape?" Hmmm... Where's Tux
Dog? He's a detective, I'm sure he could find the answer. I can't find him anywhere. Hello?
What?? Google's been hacked?!?...Better ask Jeeves. Hmmmmm, let's see...click...click...click. Hey
Raphe! Have you been using your 2megabit magic memory stick in my USB port? Something's wrong
here. Nuclear winter wrong... What? You think it's broke? You think the internets broke? No, you
don't have to hit save when you're done using the internet. Just close your eyes and make
believe... and you can be at Fort Thunder! Paper Rad hasn't turned on anything that wasn't
already off.

anyway, read the last sentence of this review, and more at:


http://retardriot.com/reviews/


Thu, 14 Dec 2006
BLIMPS!!!!BBBBLLLLLIIIIMMMMPPPPSSSSSSSS!!!!!!!!!!!!! we helped make blimps, thursday the dec. 7th 2pm, miami beach, 17th street and the beach.
and Doo Man Group is doing a death metal set with Barr the 10th in Miami too. @
MARLIN HOTEL
1200 Collins Ave
South Beach, Miami, Fl
PICTURES COMING SOON!!!!!!!!!!!!!


Sat, 18 Nov 2006
Sun, 05 Nov 2006
Mon, 02 Oct 2006
Black Taj "Best "new" band"-says "Ben"
Wyld File and Paper Rad will be doing the Bubble Puppy video part 2 with a un-sanctioned track from Black Taj. Look for it Christmas Day. Coming Soon. Not A Joke. Shweet!
Mon, 14 Aug 2006
Sat, 12 Aug 2006
NEW FLYER----=--->
here is a flyer for you to printout in color, or black and white, or little style
wed. august 2nd
boston at O' Brians 3 harvard ave, allston, ma
w/ mudboy
thurs. august 3rd
providence, "Pine needle nest" on Pine street w/ mudboy. Starts at 8:30 over by 12!
fri. august 4th

nyc--SYRUP ROOM
100 Ingraham St @ Porter |
EastWilliamsburgIndustrialPark, Bklyn
L to Morgan | ALL AGES | 8pm | no phone
w/ mudboy

sat. august 5th
philadelphia at black floor, 319 A North 11th St. 3rd floor w/ mudboy
sun. august 6th
baltimore--wham city, 1511 guilford ave B403
baltimore md 21202, 410-258-WHAM
w/ mudboy
mon. august 7th
washington DC at the warehouse next door, 1017 7th Street
NW Washington D.C. w/mudboy
tues. august 8th
304 east grace st apt a., richmond, VA
wed. august 9th
rest
thurs. august 10th
chapel hill, NC at nightlite, 405-1/2 West Rosemary S
friday august 11th
chill out

---

sat. august 12th
knoxville, at the pilot light, 106 E. Jackson
sun. august 13th
lexington at the frowning bear: 208 Forest Park Road
mon. august 14th
rest
tues. august 15th
st.louis at spooky action palace, Intersection of Hwy 40 + Hampton Avenue
wed. august 16th
chicago at "red eye"
2201 south wentworth
wentorth and cermak
at the entrance to chinatown
thurs. august 17th
milwaukee at darling hall, 601 S. 6th St.
fri. august 18th
detroit at trumbullplex
sat. august 19th
Forest City Gallery
352 Talbot Street
London, Ontario N6A 2R6
519-434-5875
fcg@lonet.ca

sun. august 20th
toronto at "el amigo"
1205 queen street w.

mon. august 21st
ottowa @ the argyle, 59 argyle early house show 7pm w/mudboy
tues. august 22nd
FRIENDSHIP COVE
215A Murray Street, Griffintown,
Montreal
w/ mudboyoy

---

wed. august 23rd

Main Street Museum, 58 Bridge Street, White River Junction, VT 05001w/ mudboy

thurs. august 24th
western mass. w/ mudboy
extreme animals, dr. doo
WE WILL HAVE NEW DVD, ZINES, BOOK,CD-RS
fortress of amplitude
MYSTERY GIFTS, SCARY CARS THAT RUN ON TROLL OIL
running free, dj jazzy jexx
PLUS MORE TO BE CREATED
SUMMER TOUR 2006
YIN AND YANG 4 EVR/BAD=GOOD=BAD=GOOD