Table of Contents
Browse Items

Art Contact Music Press Projects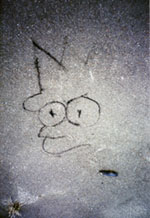 Sun, 01 Jun 2008
Problem Solvers on Youtube

Problem Solvers, our new animated cartoon for everybody, is on
the internet, "for everybody."
Here is Episode #1211: "Give Pizza A Chance"


click around for the rest of the mystery
Wed, 13 Jun 2007
Tue, 17 Apr 2007

Jacob put together a video screening called "nothin special"
that is a part of the select media festival in chicago.
Please go, here is the info:
http://www.lumpen.com/VERSION7/a20.html
FRIDAY APRIL 20 7pm
@ Co-Prosperity Sphere ¥ 32nd Place & Morgan
$10 Donation after 8 pm


One hour of videos from the sad lands of post-internet contemporary USA.
Some of these artists I have met, others are YouTube apparitions, and others
are complete mysteries, discovered, re-discovered, and lost again inside the
internetÕs caverns. Original or stolen footage, homemade or mass-produced,
monumental or completely boring, there is no difference. A magical moment
becomes meaningless, then rediscovered as a powerful ghost, then buried again--
all in the blink of an eye. Banal vs. Extraordinary, Derivative vs Original,
Insane vs Normal, Real vs Fake, these distinctions donÕt exist because we walk
with all these spirits simultaneously.

Including:
John Michael Boling and Javier Morales (New York), Jesse Hulcher (Pittsburgh),
John Kilduff (Youtube/California), Jesse Mclean (Pittsburgh), Shana Moulton (California),
Nanny Lynn (Michigan), Happeh (Youtube/California), Guthrie Lonergan (California),
Kathleen Daniel aka Silicious (Youtube/Germany)

Thu, 14 Dec 2006
BLIMPS!!!!BBBBLLLLLIIIIMMMMPPPPSSSSSSSS!!!!!!!!!!!!! we helped make blimps, thursday the dec. 7th 2pm, miami beach, 17th street and the beach.
and Doo Man Group is doing a death metal set with Barr the 10th in Miami too. @
MARLIN HOTEL
1200 Collins Ave
South Beach, Miami, Fl
PICTURES COMING SOON!!!!!!!!!!!!!


Mon, 02 Oct 2006
Black Taj "Best "new" band"-says "Ben"
Wyld File and Paper Rad will be doing the Bubble Puppy video part 2 with a un-sanctioned track from Black Taj. Look for it Christmas Day. Coming Soon. Not A Joke. Shweet!
Mon, 26 Jun 2006
Our Dvd is out on load records. Paper Rad Dvd, Load Records

we will tour in august 2006 to support the dvd with a lot of bands and new videos. thanks to load for being really a wonderful community.
Fri, 09 Jun 2006
Mocca
We will be at mocca with new books, t-shirts, videos, and music and more.
Plus (not pictured) our new 5000 page full 3d neon magic eye book out now on Thrill Jockey =|:8
We will be at the Picture Box table.
Due to the troll flu, we will not accept trolls, however will accept garfield too plush dolls as money.

Tue, 07 Mar 2006
Hey everydudy check out some new cartoon work this month in the mag Arthur! The story is about a strange ball in search of the spirit of the 90's music scene.

Mon, 01 Aug 2005
so yah, what is a project, well in my mind it is when there is this thing and then people work on it and it ends up being this thing, this could mean building a barn, going on a party boat, or making some stuff, here is an example of a project: wyld file http://www.wyldfile.org/ i saw this online music video and I said to myslef that looks fun, let me ask my friend if I can do that. thats it, its not about if beck was poor growing up, or whats better: dogs or cats. its about doing something, then doing another thing. that is a project. next time, "what is a work shop" ps projects will include things outside the meaningless attribution of "Paper Rad"