Table of Contents
Browse Items

Art Contact Music Press Projects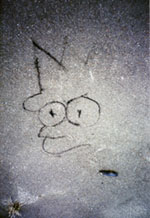 Fri, 05 Jan 2007
Paper Rad videos and Jazzy JC 2-d art show up in Baltimore this Saturday,
January 6 2007. Dance Party featuring incarnations of DJ JC, Rubbed Raw, Lexie Mountain Boys...more i'm sure.
GLOW WORMS GLOW WORMS opens at Current Gallery January 6th!!!!!!
Opening reception: Saturday, January 6th, 2007 at 8pm
with Lexie Mountain Boys, Fancy Feast, Rubbed Raw, DJ Jazzy Jess,
videos & then dance party!
Current Gallery is located at
30 South Calvert Street, Baltimore, MD 21202.
Glow Worms is open Tuesday 3-7, Thursday-Sunday 11-7, through
January 26th. Curated by Sophia Dixon.
"Glow Worms is a gathering of artwork and performance that
generates light and warmth in the dark days of winter. The show aims
to ward off seasonal depression with work that glows in the dark,
lights up, and is bright, hot, intimate, erotic, enclosed, and secret.
If Glow Worms were an animal, it would be phosphorescent rainbow
jellyfish in the darkest part of the ocean."